The weather conitinued to cooperate as the week started and I took advantage with outdoor rides on Monday and Wednesday. On Monday I headed east toward Anne Arundel County passing through Fort Meade, Sevren, and the
Arundel Mills Mall
. The 34 mile route included a few miles of legal highway riding along Route 32. From Arundel Mills I headed home via Clark Road and past the prisons on Brock Bridge Road. Tuesday was a rest day with a busy day at work and fund raising in the evening. I got in a moderately hilly 27 miles on Wednesday to the Rocky Gorge Reservoir, Fulton, Clarksville, and up the big hill on Harriet Tubman Road. A little chillier and a little slower, but still outside.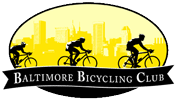 It turned colder the rest of the week which meant I was back inside for some spinning. I was working on my fund raising most nights after work and didn't head downstairs until at least 9 or 10. Thursday saw 15 miles to
Pawn Stars
. Friday included another 15 miles to some music and Leah playing Wii bowling. Speaking of which, over the weeknd
Leah bowled a 299 on the Wii
... one pin away from perfection. She was on fire! It was still very cold over the weekend, so I stayed inside. Lots of fund raising work as well. On Saturday I only spun for a quick 1/2 hour (10 miles) before heading to the
Baltimore Bicycling Club
(BBC) winter meeting and social. Over 100 members attended, and I received a nice introduction and spotlight on my cross country trek. Our new president,
Georgia Glashauser
, has gone cross country three times and wrote a book about it. Check it out -
Bicycle from Sea to Shining Sea
. Georgia followed the northern route (somewhat similar to my route) with the American Lung Association's Big Ride. This event was huge back in the late 90's but has become a much smaller, shared cooking with camping ride. Given the ALA connection, I looked at it, but it was canceled in 2009 and I did not want to risk that ... plus, I want to sleep in a bed each night! Georgia rode with
America by Bike
(my tour company) when she went from San Francisco to Portsmouth. BBC has a number of great events throughout the year and a wide variety of rides all over the Baltimore area. I plan to ride more with the club in preparation for my trip. The night ended on a bit of a downer as four members had their cars broken into. I was only one car away from the smash and grabs.
I had another solid week of fund rasing and launched a group page on Facebook to help spread the word.
Mark's Trek Across America (on Facebook)
had over 75 members by the end of the week. A big thanks to Karen's cousin,
Louise Brauneis
, who not only donated, but got more than 10 of her friends to join up! I received almost $350 in donations bringing my total to just shy of $3,000.
Silver level donors included Gopal Vembar and Vinayak Wagle.
Bronze level donors included
Lee Platz (a 5 time donor!)
, Lakshmi Manambedu (2nd year), Frank Washburn, and Lousie Brauneis.
I wrapped up the week with a long two hour spin (42 miles) to the NFL playoffs. Football is a reasonable distraction and helps pass the time. I pedal hard during third and fourth down plays, sprint on big plays, and easy spin during commercials. Finished the week with over 142 miles ... right at my goal. Inside of five months until the ride!