No alarm clock ... no loading the luggage ... no
lycra
... rest ... relaxation ... healing
After eight (well nine counting wheel dipping) consecutive days of riding and almost 650 miles, we took our first rest day in the Idaho state capital of Boise. The city is home to 200,000+ people and is much more metropolitan than I expected. It is very clean and most of the downtown area is extremely new. We stayed right in the heart of downtown and near the
Boise State
campus. Visiting the famous blue turf stadium was a must.
Boise State Campus
Serenity Spa
Home of the

BSU

Broncos - Smurf Turf
After a leisurely breakfast, Mark and I grabbed a cab and headed to the
Serenity Spa
for massages. It was a great way to relax and work out some sore spots. My knee is still bugging me and will likely require me to dial it down a little the next few days. I did ice it several times and sat in the whirlpool as well. Lunched at the
Ram

Restaurant
with Mark, Jeff, and Katie. We kind of over did it with the desserts including a mile high ice cream pie, key lime cheesecake, and cobbler
ala
mode ... hey, I have burned over 32,000 calories so far.
Me and Sandy Catching Up On The Blogs
Boise Capital with Mountains in Background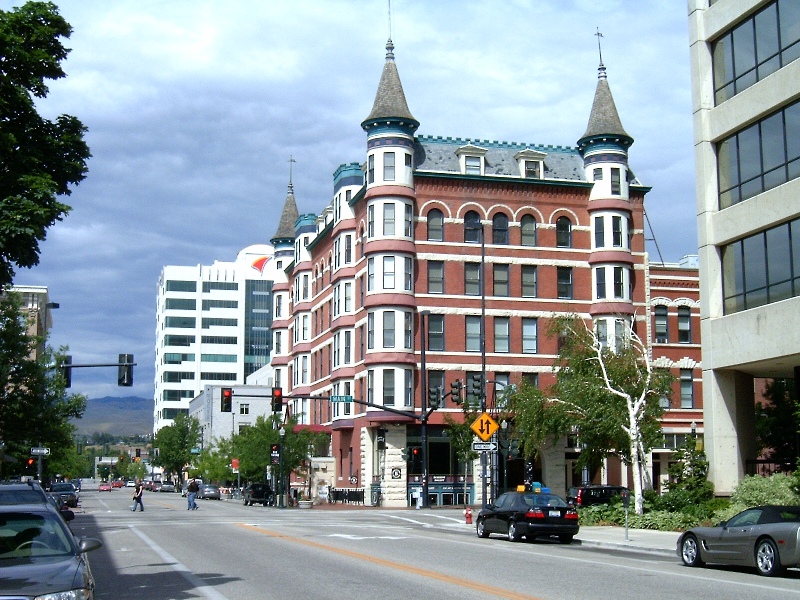 Clean and Metropolitan City
I headed to the stadium and did a little walking around the city before returning to the hotel for laundry and some knee therapy. The gang plus Sandy and Leo went in search of dinner and ended up at the
Ale House
. Fish and Chips followed by some jellybeans from the local store ... no
DQ
to be found. Just finished packing back up for another day on the road ... should be a little cooler and the wind looks to be in our favor. The day is pretty short (only 52 miles) and mostly flat. A good day to take it easy and try to rest my knee. That is so hard for me, but I don't want to push myself too hard and really do some damage. So ... it may take me an extra 30 minutes ... big whoop.
Gerard's Kind Of Place
Gail and Carl Say Goodbye
Good night moon ... good night Boise ... good night Broncos (
BSU
nickname) ... good night rest ... good night clean clothes ... good night bum knee ... good night and goodbye Gail and Carl